U20 participants tour Jakarta by MRT and electric buses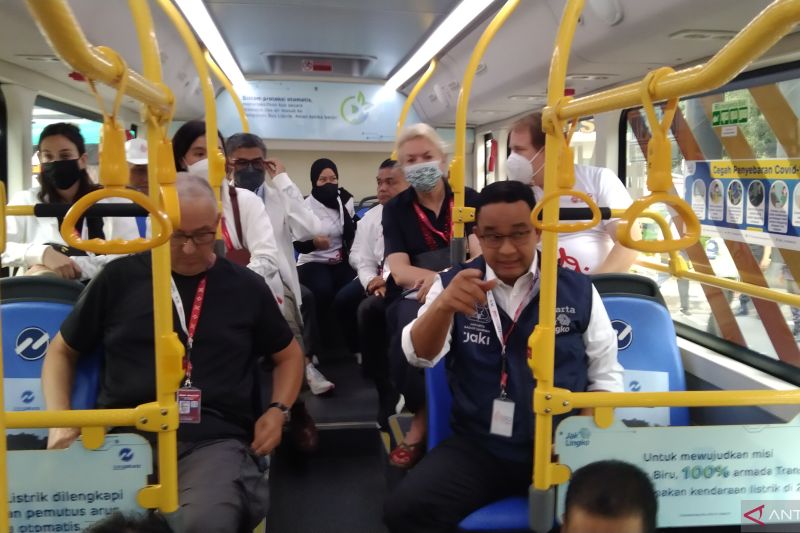 Jakarta (ANTARA) – Jakarta Governor Anie Baswedan has taken several G20 Urban 20 (U20) summit participants on a city tour aboard TransJakarta electric buses and the Jakarta MRT.
"We invite them to see a new side of Jakarta," the governor remarked Monday in the Dukuh Atas area.
The city tour started from the Fairmont Hotel in Senayan, the venue for the U20 meeting, with participants aboard electric buses.
Besides Baswedan, U20 participants who joined the tour included Mayor of Rotterdam, Netherlands, Ahmed Aboutaleb; representatives of the city government of Mumbai, India; international organizations and institutions; as well as several mayors from Indonesia.
The electric buses passed through the Senayan region, then the Blok M region, and stopped at the Cakra Selaras Wahana (CSW) bus stop.
From CSW, the group headed to ASEAN MRT station to take the Jakarta MRT to Dukuh Atas MRT station.
"We are also developing micro and small businesses at the MRT station," Baswedan told them when they arrived at the Dukuh Atas MRT station.
The U20 was organized within the framework of the G20 Sherpa Track to discuss the issues and challenges facing cities, mainly in relation to the fight against the global climate crisis and the fight for sustainable development.
Jakarta hosts the City Heads of Government Meeting or G20 Urban 20 Mayors Summit in Central Jakarta from 30-31 August 2022.
The U20 Summit is expected to present recommendations related to efforts to address the challenges of municipal governments for the G20 Summit, which will be held in Nusa Dua, Bali, on November 15-16.
Related news: Jakarta explores green transport cooperation with Los Angeles
Related News: Jakarta Governor, Rotterdam Mayor Discuss Pandemic Challenges