Uno and Pandjaitan step up preparations for G20 summit in Bali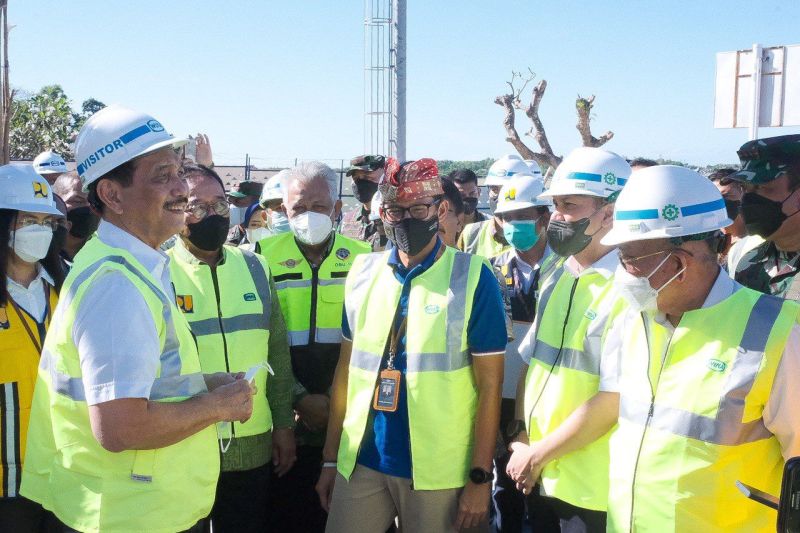 We reviewed the VVIP (arrangements), starting from the arrival process of those from the country and its delegation to the hotel and activities. We prepared all this and explained it earlier. It has reached the 80-90 percent stage
Jakarta (ANTARA) – Minister of Tourism and Creative Economy Sandiaga Uno and Coordinating Minister of Maritime Affairs and Investment Luhut Binsar Pandjaitan have stepped up preparations for the G20 Summit to be held in Bali in November this year.
"There are several main issues related to the G20, of course, (related to) the preparations for the program assigned to us as well as the preparations for the G20 member countries and the three guest countries. These must get the best service , so we need to intensify preparations," Uno noted in a statement on Saturday, after a coordination meeting and field visit for the implementation of the G20 Presidency with Pandjaitan.
On the occasion, the ministers reviewed the progress made in the construction of the VVIP terminal at I Gusti Ngurah Rai Airport to facilitate access for guests of the G20 Presidency in November 2022.
"We reviewed the VVIP (arrangements), starting from the process of arrival of those from the country and its delegation to the hotel and activities. We prepared all this and explained it earlier. He's reached the 80-90% stage," Uno said.
All infrastructure development works are expected to be completed in October 2022.
Tourism and creative economy stakeholders are ready to host the international event.
"Therefore, in November, it is only the finalization, and in the preparation of human resources, the capacity of these young people must be increased, so that our hospitality will be remembered well," Uno affirmed.
Uno said Minister Pandjaitan had praised Bali's hotel facilities which were considered better than those at G20 last year.
"The Coordinating Minister has praised hotels in Bali, including The Laguna, which is currently being renovated. It scores two levels higher than Rome, Italy, which was the former host of the G20," said declared Uno.
Indonesia's G20 Presidency provides an opportunity to facilitate discussions on digital-driven global transformation, Communications and Information Technology Minister Johnny G. Plate said earlier.
This was possible since several stakeholders from 20 countries, from the public or private sector, were able to discuss vital issues in a formal and free manner.
"The Indonesian government is honored to hold the G20 Presidency as a means of (enabling) dialogue between public and private stakeholders on important issues, including the digital transformation process we are currently experiencing," Plate remarked.
Amid the recovery of several sectors from the COVID-19 pandemic, an interesting aspect to discuss was innovation in digital technology, which could be made available to developing countries apart from developed countries.
In this situation, digitalization of the global market would lead to significant growth in a few years, he said.
The ministry also discussed possible digital-based business expansion soon as digital innovation is available.