Watch now: "Crane Brain" – Surfline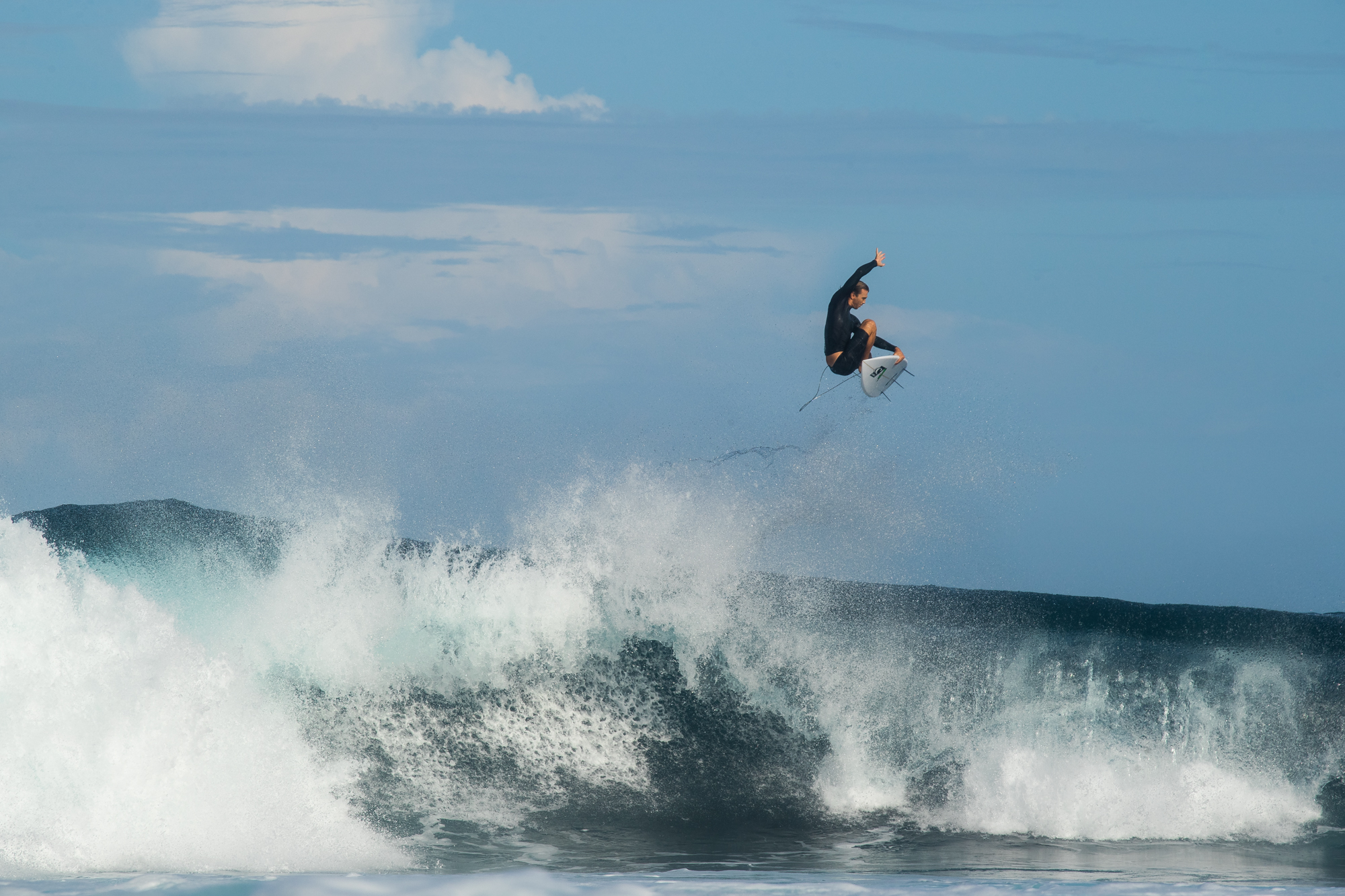 It wasn't supposed to be like this. The film that would become known as "Crane Brain" was just meant to be an album. A collection of Ian Crane travel clips captured by Scotty Hammonds and Nate Lawrence in the summer of 2021 across the Indonesian archipelago. A long-form diversion from Crane's highly entertaining "Beach Head" editions. Just a project he had sketched out with his roommate, USA O'Neill team manager Gabe Garcia.
It wasn't meant to be a contender for best surf movie of 2022, if such a thing even existed. But here we are. Judge. Panting. Comparing. Applaud.
"It was almost a disaster!" Crane laughs. "COVID had calmed down a bit, but there was still the five-day quarantine in Jakarta before entering Indonesia. So I did that, then went straight to Sumbawa and started right away to score crazy waves. I kept meeting people along the way and just jumped with them a little bit: first a little strike with Cosby Colapinto, Jett Schilling and Wyatt McHale. It seemed like COVID was down and everything was reopening. Restaurants were picking up, there were parties and everyone was relieved. But a few weeks after that first strike, everything in Bali shut down en masse with curfews and all flights cancelled. So from our perspective of being there to film — which required being mobile, actively hitting the swell, and wandering all around Indo — that almost didn't happen.
"I stagnated in Bali for almost a month, without completing the work I had planned to do, for which O'Neill had already paid me," he continues. "So I was tripping, like, 'Oh, man, this is the first time I've managed a proper budget for a feature film with all this production behind it, and I'm totally gonna fail! They're never gonna let me do anything again. either by myself! But then things turned around. I met Dusty Payne in Bali, we ended up hanging out a lot and kind of joined forces with our filmers.
"I try to go to places where there are no people, and after staying home with island fever for so long, Indonesia during a pandemic felt pretty good to me," laughs Dusty. "They installed the five-day quarantine and then changed it to eight days, so I just sat in a hotel in Jakarta and then flew to Bali with my sister, her boyfriend and her brother. They left when Bali locked down again, and I ended up staying three months, hanging solo with a bunch of swells piling up. That's when I met Crane and he suggested I go to Sumbawa, which sounded crazy.
Renowned Bali-based photographer/filmmaker Nate Lawrence, who was attached to Crane for most of the project, played a key role throughout, with his in-depth knowledge of the location guiding them in the right direction. . With plenty of raw swell on tap and fearless Scotty Hammonds lens covering alternate angles from Lawrence, the project got some serious aesthetic momentum.
"There were weird loopholes to navigate and a lot of logistics to figure out, but we were able to hire a car and the ferries were always ready to go, so we went to Sumbawa and stationed there for a month. We were driving from Western Sumbawa to Lakeys then back to Western Sumbawa for a swell then getting in the car that night and hopping on the ferry to Lombok and catching the back of the swell at Deserts then back to Sumbawa after a day… It was just this mad rush to try to salvage the project, to make up for lost time after sitting on our butts for a month. In one month we had several swells at one location in Sumbawa. The second two were twice as big as the first, and just amazing.
"I knew absolutely nothing about this place," Dusty says. "It was such a pleasure and such a surprise to be able to ride this wave. All the locals said it only felt good maybe four times a year, and we had four swells in a month. [laughs]. And being with Crane was a lot of fun. I had never really hung out with him before that. I knew he was ripping, but after hanging out with him… My God, this is such a legend. Crane is so excited to surf, but other than that he's just a really good person. It was probably one of the best trips of my life.
"It's just one of those cool things about travel," says Crane. "You end up running into people who are on the same program as you. And with Dusty being one of the best surfing movie stars of all time – I've always been taken aback by his roles – it was really special for me to be able to ride such a good wave with him. And then he was cool enough to let me use his clips. Still, I couldn't just post another indo edit. I had to keep developing what we already had. So I wrote a big email to O'Neill asking for an extension of time and a little more budget to take another trip, somewhere with cold water. And I really wanted to go with Cory Lopez.
It was a no-brainer for the O'Neill brass – an opportunity for the wetsuit company to showcase their winter gear while enlisting a longtime pro teamrider whose style is eerily similar to Crane's. A former doppelganger, if you will.
"Cory is one of my heroes," Crane admits. "He's taken me on some amazing surf trips, especially when I was younger, and he's always been so cool to me. At first it was just a little edit, but now it was turning into a real movie. And if I'm doing a real movie, then I have to have one of my heroes in it, right? They approved the budget and gave me the green light to shoot more of it, and I convinced Cory to be on hold for a cold water strike in Europe, where I had competed in two WSL Challenger Series events. But I had already kind of given up on competing. And that was also part of speech, like, "Hey, I'm a freesurfer now and would like to do a meaningful edit on my own, instead of just a few clips put together from random trips between competitions."
"Crane Brain" being his only priority, he brought Nick Green to Europe to film and begin editing. It turned into a real block party, with Crane and Gabe Garcia's girlfriend joining the ranks, as well as another young O'Neill prospect, Caity Simmers, who was in Europe at the time. .
"We had a fun week with Caity after the event in France, and she was tearing up all the spots so hard," says Crane. "It was amazing watching her surf, and hers ended up being my favorite part of the whole movie. Then the plan was to go straight from France to Ireland to meet Cory and the local photographer/director Clem McInerney, our contact in Ireland who was following the forecast closely. At first, Clem was all, 'Don't come! The weather and the winds are crap. We'd love to have you, but it's going to be so bad.' It really isn't worth it…'"
"I was heartbroken, because we only had this little window," Crane continues. "Cory had already said 'yes' once and I didn't know if we could get him out later. He was collapsing. So I flew out to find something else, and the day I got back , Clem said to me: "Come back!" The weather has turned. The swell is coming. You must arrive here tomorrow!' I started quickly dialing Cory, who was in South Florida meditating on chest-deep waves, and he was like, 'I don't know, the water is 75 degrees. hard to leave. [laughs] I begged him, 'Please, fuck you! It will be the sickest thing ever if you come! It would mean so much to me! My film won't be the same without you! Please!'"
Eventually, Cory relented and booked her flight.
"I was promising Cory barrels and I didn't even know if it was going to be good," Crane says. "I started tripping thinking, 'Fuck off and Cory's gonna hate me and I'm wasting all of O'Neill's money!' [laughs] But we grabbed it again, made it in time for the swell, and the waves were pumping. We met Clem and Conor Maguire and all the Irish guys, and had a sick time.
"Going to Ireland with Ian was a blast," confirms Cory. "Obviously we marked the surf, this place is pumping. But more than that, Ian is just an epic human, so being with him on this trip was all about good times. Ian Crane is definitely the man.
This icy piece was the final piece of the puzzle before Nick Green put on his post-production hat and got to work. But even as it all started to fit together – music, graphics, etc. – Crane still wasn't sure how "Crane Brain" would be received.
"Months of sickness after Ireland, I was back on a trip with Cory and was able to show him a preview of the film," Crane concludes. "I was so nervous to show him, but he ended up being really happy! It gave me a little bit of confidence. Because it's nerve-wracking and a bit embarrassing to work so hard on something. which, you know, puts a lot of yourself into it. It's weird. But then Cory was all fired up, so I was like, 'Well, if Cory likes this, then I don't care. It must to be good [laughs]."
After eliminating first-round jitters in what Crane calls a "crazy premiere at the White Monkey Surf Shop in Bali," Ian Crane and Nick Green embarked on the first "Crane Brain" tour, with three stops in California and four stops on the east coast. Click here to find out more.